The Solution:

So if your tube is actually leaking or punctured we need to transfer the paint to a new tube. In my example the cap and neck are damaged.

Transferring the paint to a new tube is easy and cheap. As I said, the expense is generally less than two dollars and it only takes about 5 minutes or less.

What you'll need:
| | |
| --- | --- |
| | an empty tube of the appropriate size |
| | a palette knife that will fit into the empty tube |
| | a palette or glass plate |
| | canvas pliers |
| | permanent marker and/or label |
| | Metal cutting shears |
| | Gloves aren't a bad idea |
| | paper towels (can never have too many) |
Empty tubes can be purchased at the local art store or from several on-line vendors. Ask me in class and I recommend a few. They come in several sizes, including the 37mL (1.5 Oz) and 120mL (4 Oz) sizes common to oil paints.
A leaking paint tube on the left with an empty tube on the right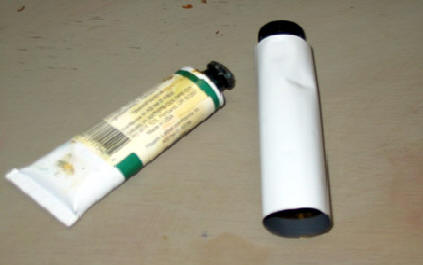 Step 1
Unroll the bottom of the tube and squeeze the paint toward the top away from the crimp. Use metal shears to cut the bottom of the tube off above the factory crimp.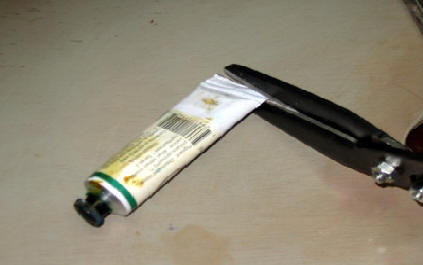 Step 2
Use the palette knife to open the bottom of the tube.
Step 3
Squeeze out the paint from the tube onto the palette or glass plate. Try to get all of the paint out.
Step 4
Holding the empty tube cap down, you can start filling the empty tube with the paint using the palette knife.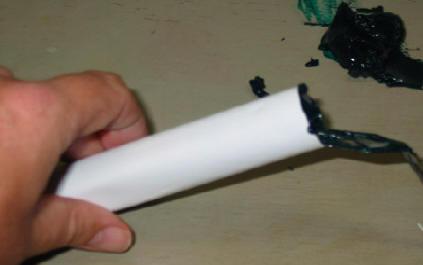 As you fill the tube, stop and tap the cap end several times and then continue filling. To tap the cap end without damaging it, hold it in your fist so that the cap cannot hit the table and slam your fist down. Do this repeatedly until the paint has been transferred.
Step 5
After all of the paint has been loaded, use your fingers to squeeze the tube together where the paint ends. Wipe off the end with a paper towel to remove any excess paint. Either with your fingers or using the canvas pliers grip the end of the tube about 1/4 inch from the end and fold over twice ensuring that the crimp has sealed the tube.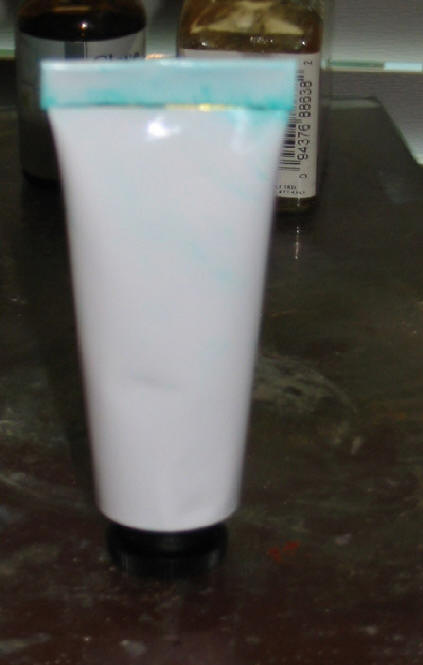 Step 6
Now all you have to do is affix a label with the name of the paint printed or written on it.
See I told you it was easy!
- Marc