I began the portrait by taking reference photos . We took shots with different poses using a digital camera. We chose the best pictures and re-shot them using a professional 35mm camera.
The following images are a couple of the 100 reference photographs that I shot. I typically only use five to ten, for primary reference .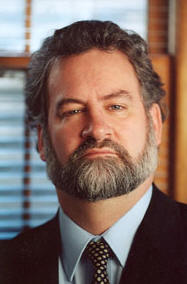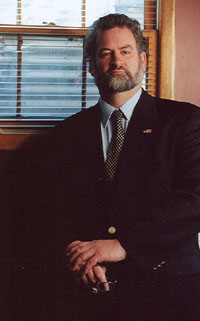 I typically follow-up the photo shoot with a life study, but in this case, due to time constraints I had to go directly to the canvas.
The first step in the painting process is toning the canvas. I generally use canvases that are at least twice primed - usually three times. The priming prevents the canvas from drawing the oils out of the paints. If oil is drawn out of the paints, they become less manageable and may prematurely dry.
I tone my canvas to a medium value with burnt umber diluted with turpentine. It is then wiped down with a rag. The toning is visible in the corners of the photograph below. For better views of the toned canvas check out the other examples of the painting process in "On the Easel"
The next step is sketching in the drawing and blocking-in the background. In painting Mr. Johnson, I quickly drew a line drawing then blocked-in the background and his suit.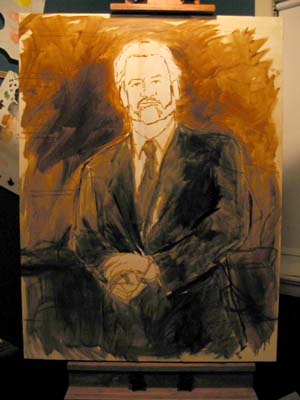 Next I start placing the darks into the face and then the middle tones. The darkest areas have already been blocked in the head and hands, and have started to be placed into the coat.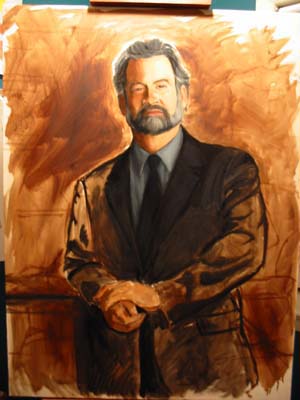 I restate the darks, then the middle tones, and then the lights. Then I go between the darkest darks and the highlights, refining contours and details.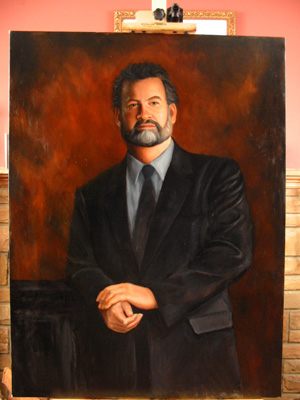 At this point the painting was shown to my two best critiques:
my wife and my father.
After incorporating the suggestions, I repainted the hands, suit, and table. I then finished by painting the glasses in Mr. Johnson's hands and his tie.
James L. Johnson
Oil on Linen
40" X 30"
August 2003